Madie Lee Carter Karstedt Ewing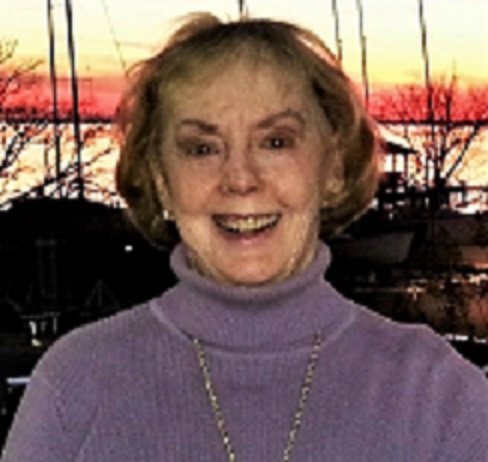 Madie Lee Carter Karstedt Ewing, originally from Baker, Fla. And longtime resident of Montrose, Point Clear and Fairhope, passed away peacefully in the presence of her family from complications of old age on May 16, 2021 at the age of 98 . She will be remembered for her great love of sailing and as a benefactor of the Fairhope Yacht Club.
Ms. Ewing was born to Frank Herbert Carter and Lois Franklin Carter. The Carter family was from the Luverne, Alabama area, and the Franklin family were early settlers in northern Okaloosa County, Florida. who later mapped out what is today Troy, Ala.
Ms. Ewing grew up in Baker, Florida, and graduated in 1940 from Baker High School. She attended Assembly of God Church in Baker. At the start of World War II, she married US Army 1st Lt. Warren Karstedt from whom she later divorced. After World War II, Ms. Ewing, while living in New Orleans, Louisiana, met John Sharpe Ewing, Jr., MD, originally from Vicksburg, Mississippi.
At the time, Dr. Ewing was a staff psychiatrist at the Ochsner Clinic in New Orleans. Ms Ewing and Dr Ewing later married in Mobile, where Dr Ewing became the first staff psychiatrist at the University of Southern Alabama School of Medicine. They enjoyed a long and happy marriage which ended when Dr. Ewing passed away on August 15, 1991.
Ms. Ewing, while residing in their bay house in Montrose, developed a great love of sailing on Mobile Bay which would become a lifelong passion. Since the Fairhope Yacht Club at this time was only admitting male members, Ms Ewing became a competitive sailor as her husband's wife and then compared her skills to the best of her male counterparts.
Ms. Ewing began sailing in 1960 as a crew member on fishing boats and became so proficient that the following year she represented the Fairhope Yacht Club at the Lipton Regatta in New Orleans. At that time, Dr. Ewing purchased a Rhodes 19 design sailboat for his personal use. From that point on, she and her husband moved on to larger cruise class ships.
The year 1970 marked a highlight for Mrs Ewing and her husband when they won the Commodore HS Denniston Trophy in the Dauphin Island Race aboard a 34 foot Cal design boat. This was particularly exciting as the prize was for the best overall sailing in the entire fleet of around 100 sailboats. Dr. Ewing was later chairman of the Dauphin Island Race Committee.
During her years of sailboat racing, Ms. Ewing has won over 100 trophies. Many of them remain on display at the Fairhope Yacht Club as a testament to his passion for competitive sailing. Ms. Ewing will also be remembered for her dedicated efforts over many years to encourage and educate children in the art of sailing and for being an inspiration especially to young women.
Over a long and successful life, Ms. Ewing enjoyed doubles bridge and partying, theater, fine art, golf, tennis, hunting, fishing and other outdoor pursuits. She also loved fast cars, her first being a red 1942 Pontiac convertible and her last a 2005 Mercedes CLK 320 convertible which she drove at Fairhope until the end of her life.
Ms Ewing was predeceased by her parents, her husband, four brothers, a sister, a half-brother and a half-sister. She was also predeceased by her dear friend and noted mermaid illustrator Marlin Griffin.
Ms. Ewing is survived by her daughter Janet Ewing Anderson as well as her granddaughters Jessica Anderson Martin (Thomas) and Jaclyn Whitney Anderson. She is also survived by a great-granddaughter Edith Lee Martin.
Ms. Ewing is also survived by her nephews Herbert Carter, Elvy Carter (Kathy) and Joseph Phelps Carter. The surviving nieces are Amanda Carter, Susan Bozeman (Charlie) and Reggie Carter Fokes. A special grandnephew David Ashburn (Geralyn) also survives.
The cremation was performed by Wolfe-Bayview Funeral Home in Fairhope. After private family funeral services, Ms Ewing's ashes were interred alongside her husband in Montrose Cemetery. Mrs. Ewing, a lifelong dog lover, has been accompanied into eternity with the ashes of Sweetie, her beloved Miniature Schnauzer. A celebration of life for friends and family is scheduled at the Fairhope Yacht Club on Sunday, June 27, 2021, from 3 p.m. to 5 p.m.
Ms. Ewing was a strong woman from the Old South who pioneered competitive sailing for women today. Sailboat racing was the best part of his long life. His generous donation to the Fairhope Yacht Club ensured its reconstruction after Hurricane Katrina. In lieu of flowers, contributions may be made in Ms. Ewing's memory to the Fairhope Yacht Club's Junior Sailing Program.
Condolence cards can be addressed to: The family of Mrs. Madie Ewing, Care / Of Wolfe-Bayview Funeral Home, 19698 South Greeno Road, Fairhope, AL 36532. Wolfe-Bayview will ensure that the cards reach Mrs. Ewing.
Arrangements by Wolfe-Bayview Funeral Homes & Crematory, Inc. 19698 Greeno Road, Fairhope, 36532. 251-990-7775. www.wolfefuneralhomes.com.